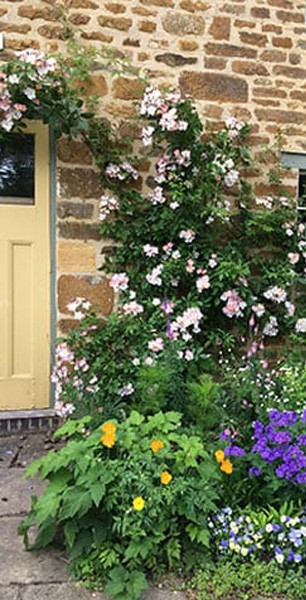 First Folio cards are designed and made by Louisa Hare on the edge of the Cotswolds, a few miles from Stratford-upon-Avon. Louisa grew up on a farm 5 miles from Stratford, where she gained familiarity with Shakespeare's plays from a young age. She spent a year at Art College and completed a degree in English, then combined the two fields in her pursuit of printing.
The skills she acquired at Exeter College of Printing have provided the foundation of her work.
While working in an antiquarian bookshop in Stratford upon Avon, Louisa discovered an exceptionally beautiful reproduction copy of Shakespeare's First Folio Volume – the Collected Works printed in 1623. This volume, itself vintage, is always used in the design process. The idea behind the cards – a simple one – was to illustrate this First Folio text.
There are now over 130 designs in print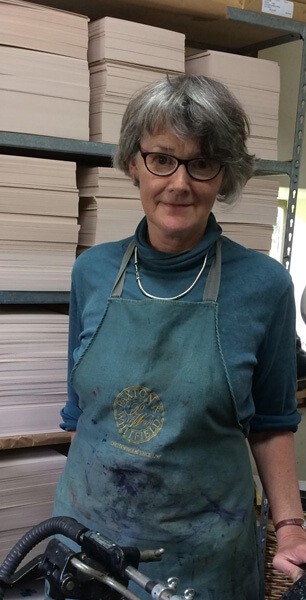 First Folio Cards are printed by letterpress, the traditional, 'hands on' method of printing. Hand mixed ink is rolled onto the relief surface of blocks and type, then transferred onto paper using pressure. This means the cards are very tactile. They are non-glossy.
The laid card is textured, and a letterpress impression is stamped into the paper. This method of printing has changed little since Shakespeare's time. The press used today is mechanised, but the way the impression is produced remains the same.
Louisa's illustrations are intentionally rustic in quality so as to complement the First Folio text. Their earthy, robust colours and playful, quirky, naive images are derived from early woodcuts typically found in old chapbooks.
Throughout the long life of FIRST FOLIO CARDS it has been Louisa's foremost, heartfelt wish to produce something honest to the spirit of the plays. By adding colourful illustrations to the original text, she hopes in a small way to make the scenes accessible, and bring them to life.
The cards have sold well at premier Shakespeare locations such as The Royal Shakespeare Theatre, Shakespeare's Globe, The British Library, The Royal National Theatre, The Shakespeare Birthplace Trust, and the Folger Shakespeare Library in Washington DC, these last two at present carrying comprehensive selections. We hope now to reach a wider public.
Almost every play has several designs
They have travelled all over the world and are particularly popular amongst students of Shakespeare, actors, teachers, schoolchildren, academics, theatre goers and tourists; generally people who are keen to know more about Shakespeare.
The illustrations from First Folio Cards were used for the covers of the New Penguin Shakespeare series, which became the official editions of The Royal Shakespeare Company.